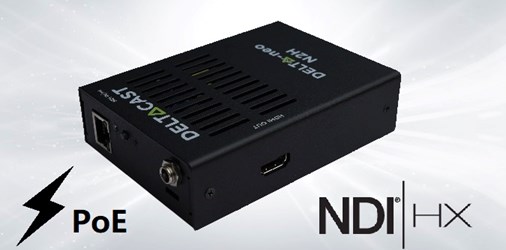 Key advantages:
NDI® 4.0 & NDI®|HX
All formats supported up to 1080p60 and automatic switch between standards
16/10 ratio supported
Fully compliant with any NDI® sender device, including any NDI® camera and NDI®|HX Capture app on iOS mobile device (iPhone, iPad)
Native official NDI® SDK-based development ensuring access to last generation SDK and updates.
HTML5 Web user interface for centralized and remote management.
Source change button.
NDI stream selection thru local switch and web user interface enabling direct access wherever the operation takes.
Automatic NDI streams detection without the need to edit any NDI streams.
Discovery server support.
Audio pair selection from embedded NDI® audio stream to be use in multilingual environments or dedicated audio workflows.
Static or dynamic network identification to adapt to any network IT policies.
Automatic power-on .
Non-volatile configuration ensuring continuous operation without human intervention after power breakdown.
Customizable Splash Screen.
Display of Alpha Channel - Hardware-based for increased stability, allows stress less operation.
Ultra-small form factor (VESA compatible) which takes low footprint in physical infrastructure.
Rugged metallic enclosure that support harsh environments and rough handling.
Straightforward installation and operation, no time spent needed configuring like on computer based system.
Factory reset button.

 HDMI, HDMI High-Definition Multimedia Interface, and the HDMI Logo are trademarks or registered trademarks of HDMI Licensing Administrator, Inc.
Technical specicfications
Hardware
1x 1Gbps Ethernet, RJ45 (1000BASE-T), PoE, network interface
1x HDMI 2.0 output connector (Type A)
Passive cooling, no fan
Powered from PoE (IEEE 802.3af) or from included
100-240V, 50/60 Hz Universal AC/DC adapter.

VESA mount (100mmx100mm) fixing kit
Dimensions : 118x85x30 mm
Weight : 355 gr
Video formats
SD : NTSC 480i59.97, PAL 576i50
HD : 720p 50/59.94/60
HD : 1080i 50/59.94/60
HD : 1080p 25/29.97/50/59.94/60
WGA : 1280x800p 59.94/60, 1440x900p 59.94/60, 1680x1050p 59.94/60, 1920x1200p 59.94/60
SD DMT : 640x480p 60, 800x600p 60,
1024x768p 60
Audio formats
Input: Up to 8x embedded pairs per NDI® stream
Output: 2-channel, 24-bit, 48 kHz, synchronous
Output sync offset management
NDI® interfaces support
NDI® v4 support
NDI® standard version (high-quality version) YUV 4:2:2 (SHQ2) or YUVK 4:2:2:4 (SHQ7) or YUV 4:2:0 (SHQ0)
NDI®|HX V1 version (H264 - lower bitrate)
NDI®|HX next generation version with NDI® v4
NDI® video stream live receiving (TCP) and decoding
NDI® zero configuration discovery (mDNS, multicast) and registration
Automatic source detection
Separate subnets (e.g. VLANs, remote segments) source discovery support
NDI Discovery Server Support
Configurable max network jitter tolerance
HDMI™ interface
HDMI™ uncompressed output
Embedded audio support
Unprotected HDCP output
EDID read or force output format
Features
Features
Display of alpha channel
Single button source change
16:10 resolution management
Splash screens customization
Automatic power-on
Non-volatile configuration
Dedicated factory restore button
Web user interface for remote configuration
Web user interface features
NDI® Channel selection
Network configuration
Status monitoring
HDMI™ Interface control
Firmware management
HTML5 supporting latest generation web browser