DELTA-offside uses revolutionary image processing technology to superimpose virtual offside line tied to the pitch without any sensors required on the production cameras.
DELTA-offside generates automatic offside line determination within a few seconds including safe operation. It guarantees high reliability level in all conditions:
Extreme weather condition like snow, fog, smoke…
Close-to-all situations (no need to see lines of the pitch)
Very small stadiums (cameras height only has to be at least 4m in height from the ground)
DELTA-offside system includes curved line technology allowing to drawn lines that follow the turf's curve. This feature makes sure that he precision is respected.
Automatic calibration tool (up to 10 cams)  reduces consistently the system' setup time .
DELTA-offside also includes an adaptive chroma keyer taking automatically into account lightning or weather conditions changes.
DELTA-offside offers two different line modes:
Offside line is drawn from a chosen point of the pitch (typically player)
Please note that in this mode 2 lines are available if needed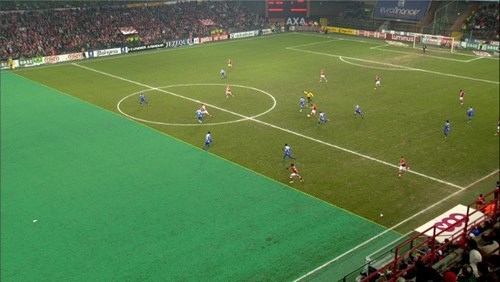 Offside lines are designed through projection on the ground of a selected point in space (typically head, shoulder of a player).