Thursday, March 29, 2018 - Discover the new DELTACAST products at NAB!
DELTACAST will be attending the NAB show in Las Vegas on booth# SL11813.
And with a new NAB edition comes new developments!
Video Assistant Referees (VAR) add-ons
DELTACAST is proud to announce its involvement in the exciting realm of VAR products, by providing its world-renowned virtual off side line as an add-on to VAR suppliers. 
VAR is still in its early stages, with existing solutions on the market in constant evolution.
By providing a fast, robust, and most importantly highly accurate off-side line, VAR suppliers can now instantly add to their product line this crucial feature.
This add-on stems from DELTACAST product DELTA-live used on top competitions around the globe.  
NDI® to HDMI converter    
DELTACAST brings you the first NDI® to HDMI converter on the market! With different converters available in the future for the NewTek NDI® ecosystem,
and with NDI® getting new grounds everyday becoming one of the main IP standard, DELTACAST will showcase the first converter of its family dedicated to
convert NDI® interfaces into HDMI.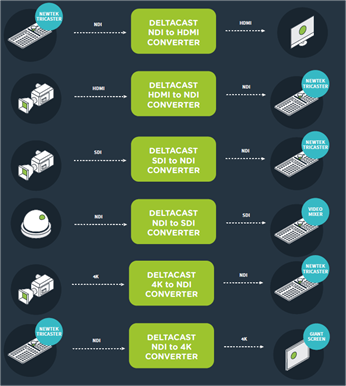 AI and automation workflows
DELTACAST flagship virtual graphics products will also be demonstrated including DELTA-live, DELTA-highlight, DELTA-touch and Virtual View with a strong emphasis on new AI automation workflows.
Come and check it out if you want to take your live sport productions and studio shows to an even higher level! 
DELTACAST will also present DELTA-stat IP for multi-sports production of high-end on-air graphics in addition to new modules for its sports arena dedicated solution DELTA-stadium.
Dedicated World Cup package
DELTACAST is excited to present its new dedicated package for one of the most important sporting events in the world! This highly interactive presentation tool involves live real-time statistics (provided by Opta Sports) such as heat maps, expected goals, expected assists and much more!

While being a standalone package, it is recommended to use it with complimentary products such as DELTA-highlight, Virtual View and DELTA-touch. 
DELTACAST provides aggressive price incentives for friends already using DELTACAST products, or for any new partner opting for yearly licenses of complimentary modules.
Let's have a chat about your World Cup projects. Note that DELTACAST can also design custom made packages on other local or international competitions with Opta Sports or any other data provider.
As you can see, this NAB edition will be particularly exciting for DELTACAST.
Don't wait for NAB to share with us your projects.
*NDI® is a registered trademark of NewTek, Inc.