Friday, August 30, 2019 - DELTACAST will present its extended range of products at IBC 2019!
DELTA-cg
 DELTA-cg is our new character generator that generate high-end graphics for any live event production such as sport, news, election, studio, mobile, stadium, entertainment and house of worship shows.
With DELTA-cg, you build your playlists, control your graphics and update your content easily at any time and go on-air in a few minutes!
Associated with its real-time graphic template Editor, you've the creative freedom to design advanced graphical projects and import them seamlessly in DELTA-cg even while on air.
Available in several versions covering the basic needs of beginners up to advanced features for the most demanding professionals.
Discover all versions of DELTA-cg here and feature comparative table.
Key Core Features:
Native Newtek NDI® support, SDI & IP.
Real-time rendering engine
Unlimited simultaneous layers on air
Separated design editor & operation interfaces
Customizable live operation interface
Custom variables per element layers
On the fly template look&feel refresh during operation
Timeline management
Template management for project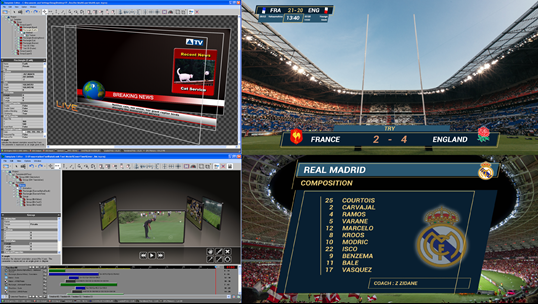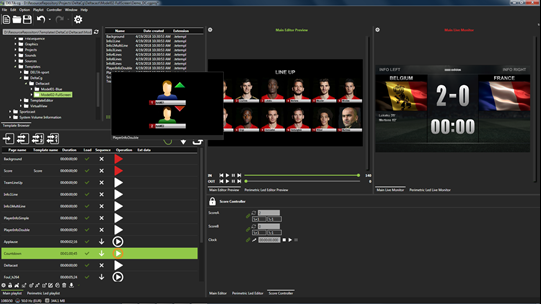 DELTA-neo N2H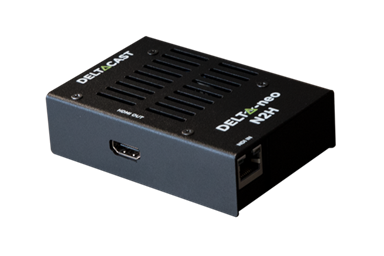 Released earlier this year, DELTACAST will head to IBC 2019 exhibition with its DELTA-neo N2H NDI® to HDMI™ Converter. 
The DELTA-neo N2H has been designed to make your life easier and facilitate the integration of NDI® IP technology in numerous video monitoring workflows of many markets;
Confidence and quality control monitoring
TV Production distribution monitoring
Stage and event screens
Digital signage end-point display
Stadium and arenas screen management
Corporate multimedia content distribution
Key advantages:
Straightforward installation and operation to spend less time configuring a computer based system.
Hardware-based for more stable, allows stress less operation.
Native official Newtek SDK-based development ensuring support for NDI-based technology provider and access to last generation SDK and updates.
Ultra-small form factor (VESA compatible) which takes low footprint in physical infrastructure.
Rugged metallic enclosure that support harsh environments and rough handling.
Power over Ethernet (PoE) adapter to limited connectivity requirements and easy deployment.
HTML5 Web user interface offering centralized management capabilities.
NDI stream selection thru local switch and web user interface enabling direct access wherever the operation takes.
Automatic NDI streams detection without the need to edit any NDI streams.
Audio pair selection from embedded NDI® audio stream to be use in multilingual environments or dedicated audio workflows.
Automatic power-on & non-volatile configuration ensuring continuous operation without human intervention after power breakdown.
Static or dynamic network identification to adapt to any network IT policies.
All formats supported up to 1080p60 and automatic switch between standards.
Discover all features of DELTA-neo N2H here