Success Story - ELEVEN SPORTS uses DELTACAST Augmented Reality for the live storytelling of Belgian ProLeague matches
Tuesday, September 6, 2022
Interview with Vincent Gustin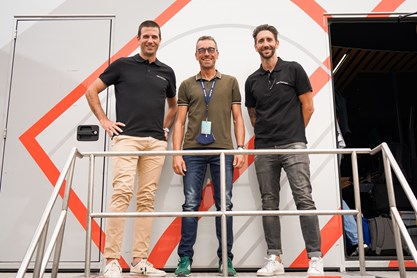 [Vincent Gustin, centre, with Gérald Olivier, head of product marketing at DELTACAST (left) and Olivier Alié, product manager at DELTACAST]
Vincent Gustin is Creative Production Manager at Eleven Sports. Vincent has a long-standing career in the sports production at Canal+, RTL, RTBF, VOO, ELEVEN … Today, Vincent is at the heart of the production of the Belgian ProLeague matches, the top football competition in Belgium. As an expert in augmented reality, he brings his 28+ year's expertise and creative touch, to the delight of fans!
As augmented reality is becoming more popular in live sports storytelling, we asked Vincent his view on it and what the future looks like.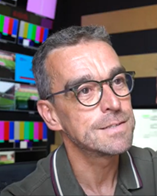 Vincent, can you explain us how the decision to add augmented reality during a live broadcast is made?
The philosophy at ELEVEN is to give fans a different view on the main match events.
Everything starts from the storytelling of the match with close discussions with journalists on what they need. First and foremost, augmented reality is a tool box for the editorial team.
Then, on the esthetics side, augmented reality is a tool for me to express my creativity. Augmented reality only has interest if there is camera movement. Camera movement and augmented reality can add a lot of meaning to your footage, changing and shaping a viewer's perspective of a scene.
How does it work in practice?
It's a teamwork.
First, there is the match running order with pre-established actions like the line up or match statistics for example. Then during the match, you can have different kind of events where augmented reality can be used: expected goal, recuperation line, penalty map, corner zone, distribution of attacks or shot speed. The decision is taken under the impulse of the operator or the producer. If there is a goal action where the shot speed is important, my feeling is to suggest it to the operator.
How do you see the future of augmented reality in sports broadcast?
Augmented reality is today fully part of the match storytelling. And it is part of our DNA at ELEVEN.
However, I would say that the main challenge remains to find the right balance between game readability and augmented elements. It should not be counter-productive and distract fans from the game. You have counter examples with the NFL in the US. There, you have augmented information coming every 3sec.
In football, distribution of attacks or recuperation line are today well accepted and well integrated in the production.
As a Creative Production Manager, is there an augmented reality feature you would dream of? 
What inspire me the most is to make augmented reality with a cable cam. In Bundesliga, they are producing their line-up with a camera movement at play ground level. And, what I like the most is that this is contributing to the match storytelling. In La Liga, they use augmented reality with drones. These are definitely things that inspire me.
How would you describe the relation with DELTACAST?
There is an open dialogue between DELTACAST and us, and, I would add, WTVision for the graphics operations. We all have different view angles on the solution and can suggest new ideas. It works as a win-win for all parties involved and I like it.