Success story – CNN Portugal uses DELTA-highlight to bring enhanced football analysis to fans with 3D storytelling and virtual stadium
Monday, September 12, 2022
The "Rui Santos em campo" on CNN Portugal is a popular sport show in a country where football traditions are very serious!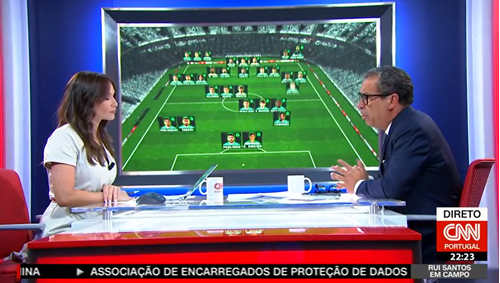 In 2021, Ricardo Melo Goncalves, owner at BasicMethod which provides graphic and slow motion operation services to CNN Portugal, brought a fresh new view on football analysis by using augmented reality, 3D storytelling and virtual stadium.
Providing viewers with unparalleled insight has been proven to drive fan engagement, grow TV audiences and create new opportunities for sponsors.
During the one hour show, they use Virtual View and DELTA-highlight for about 6 to 10 analysis to add an expert-level of analysis to the games.
"We use Virtual View for tactical analysis by re-creating a virtual view of the stadium with player pictures, name and number", explains Ricardo.
They also use DELTA-highlight, for player tracking and augmented reality using the full spectrum of annotation tools and special features including the magnifier tool or the superclip feature. DELTA-highlight allows the very fast generation of slow motion sequences for football fouls analysis or referee decision review.
"My dream is now to move to 3D advanced highlight effects such as fly between two real cameras or player's moves", explains Ricardo. For that, Virtual View allows to create a highly realistic virtual 3D scene based on a game image.
Using 3D and player tracking makes a huge difference versus similar football shows. "Today it has become a key differentiation, a 'wow-factor' with many impressive graphics, reflecting positively on the channel brand", added Ricardo. Sequences of the show created with DELTA-highlights can now be found on social media to the delight of fans.
With DELTACAST, the storyteller has a large toolkit to push the limits of compelling sports coverage ever further.
More information on sports storytelling, virtual view and virtual advertising can be found on www.deltacast.com.