Press Release - DELTACAST receives FIFA Quality certification for its Virtual Offside Line solution
Thursday, December 09, 2021
Press Release -
DELTACAST receives FIFA Quality certification for its Virtual Offside Line solution
This worldwide certification confirms the compliance of DELTACAST solution with FIFA virtual offside line standards.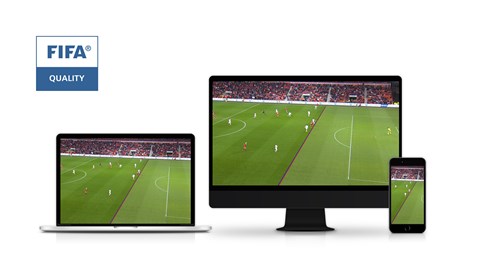 DELTACAST DELTA-offside has been granted the FIFA Virtual Offside Line (VOL) certification following a series of tests carried out by independent, FIFA-accredited test institutes at the Paderborn and Mönchengladbach stadiums in Germany. 
During this event, the accuracy and consistency of the DELTA-offside VOL system were assessed to ensure they meet the specific technical requirements set out by the FIFA Quality Programme for VOL.
Offside is one of the most critical decisions football referees take during the match and the VOL programme is part of FIFA's ongoing effort to make the game fairer, safer and more engaging.
DELTA-offside uses DELTACAST image processing technology to overlay 2D as well as 3D lines on the broadcasted image. The virtual 3D lines are designed through projection on the ground of a selected point in space (typically head, shoulder of a player), enabling match officials to determine whether a player's body part is positioned over the offside line or not.
DELTA-offside offers smooth integration with existing VAR replays systems and gives operators the ability to swiftly determine an offside position.
"Professional leagues can deploy our Virtual Offside Line technology across their competitions while being assured the solution meets the highest standards thanks to this FIFA Quality label." explains Lionel Dutilleux, International Sales Manager at DELTACAST.
About DELTACAST
DELTACAST is a #sportstech company, dedicated to the next generation of virtual graphics to enhance the fan experience in live sporting events. Its solutions rely on a set of in-house high-technology modules adapted to each specific sport and game rules: sensor-free tracking, image processing algorithms, adaptive chroma-keying, and a high-quality 3D engine. DELTACAST also performs specific projects for the professional broadcast market (TV game software, Virtual Director, TV show automation).
Press contact:
Géraldine Demarteau
Communication Manager