Thursday, January 31, 2019 - New partnership between Belgian Pro League and DELTACAST
We announced already with a bang at last NAB that DELTACAST was entering the VAR realm by proposing its world-renowned virtual offside line as an add-on to VAR suppliers.
With already key partnerships announcements at NAB and IBC, we have been working with all stakeholders involved to propose the best solution to the market.
A new partnership
We are proud to announce this new milestone in our home market.
For several years to come, the Belgian Pro League will benefit from the latest innovations in terms of offside line detection. This contracts complements the strong presence of DELTACAST in Belgium, with DELTA-live operated on live events since 15 years and DELTA-highlight used by 4 Belgian TV companies for their TV shows.
Since the creation of the offside line detection engine in 2002, DELTACAST has continuously improved its accuracy to meet the growing demands of the market and its technology partners. This experience of 15 years explains the top quality of DELTA-offside. It is the reason why several VAR suppliers, who are not specialists in offside lines, have decided to work with DELTACAST and integrate DELTA-offside in their solution.
Based on a flexible and scalable architecture, the offside line DELTACAST environment is available as standalone system as well as bridged as add-on for 3rd party VAR system.
Within the mobile infrastructure provided by Studiotech, the URBSFA referees will benefit from a close integration with the Dreamcatcher video replay system of its technology partner Evertz.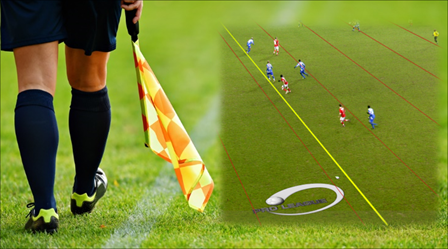 Thanks to this advanced system, the different camera images necessary for decision-making will be efficiently processed to provide the right decisions while minimizing game downtime.
Beside the referee aspects, Belgian Pro League and DELTACAST will work jointly to leverage data- and graphic-based innovations in order to answer professional leagues and clubs challenges such as increasing in-stadium and home fan experience and improve collective team performance.
To increase the immersion experience for fans, one track is the enhancement of Belgian stadiums with DELTA-stadium to playout video and advanced graphics on giant  single display and multiple LED perimeter boards. Another option is to use the various data provided by STATS, the official data provider of the Pro League, to enhance the story telling of the game using its virtual display technologies and create a superior watching experience whether through the many screens inside the stadiums or through the television production coverages.
DELTACAST expertize could also help the coach delivering the right messages to their teams. DELTA-coach solution is able to collect, store and manipulate game data to create tactical scenarios and other elaborated sequences that are displayed through a dynamic and interactive presentation (e. g. bird view, virtual 2D and 3D players).
Thanks to 30 years of research and development in the field of embedded electronics, real-time data acquisition and aggregation management, video tracking expertise and its latest advances in the artificial intelligence engine, there is no doubt the DELTACAST holds the essential building blocks for solving many leagues and teams future challenges.