Thursday, March 28, 2019 - Discover the new DELTACAST innovations at NAB 2019
DELTA-cg: An advanced character generator and playout system for live production 
If you were at ISE this year in Amsterdam, the massive LED cube dedicated to sports arenas on our partner UNILUMIN booth have probably caught your attention…and DELTA-cg was the playout graphic solution firing it up.
DELTA-cg is the brand new DELTACAST character generator. Highly intuitive, it generates high-end graphics for any live event production: sport, news, elections, studio, mobile, stadium, entertainment and house of worship shows. 
With DELTA-cg it is easy to build top-notch 2D & 3D animations, configure and automate playlists, control all kind of screens, ribbons, LED perimeters, and even synchronize pre-game shows such as…fire works!

DELTA-neo N2H: The star of the show!
You probably already know the new DELTACAST NDI® to HDMI™ converter, called DELTA-neo N2H.
The DELTA-neo N2H has been designed to make your life easier and facilitate the integration of NDI® IP technology in numerous points-of-display of many markets.
Tailored for confidence monitoring as well as signal distribution, the N2H will seamlessly integrate any workflow in TV production, stage and event, digital signage and corporate multimedia …
Thinking about full NDI® workflow? Come and share your vision with us, we might help!
With our premium partners Newtek and 3DStorm, we are delighted to bring DELTA-neo first product to the market. It will be on demonstration on our booth #SL13013
NewTek gathers every year at NAB Show to learn, to share, to experience and to see the latest innovations that bring our visions to life. Join us in celebrating our N2H future success, and take a glimpse into the future.  Register here: https://www.newtek.com/nab2019/community-event/

DELTA-offside: Video Assistant Referees (VAR) add-on
Already announced during the last edition, DELTA-offside proposes now major improvements required by the market, with also concrete rolled-out projects under our belts!
VAR is now mainstream in sports and highly precise, curved and 3D virtual offside lines are today a must to help referees to make out the best decision in critical moments during games.
DELTA-offside is available as a stand-alone system or as an add-on to VAR system providers. Thanks to an efficient API, it is easily integrated in most VAR systems workflows.
Make sure to stop by our booth #SL13013 to talk VAR, but also to check out our partners' integrated solution using our add-on on Evertz and Simplylive booth. Thanks to our combined efforts, we have made some considerable progress that we can't wait to share with you!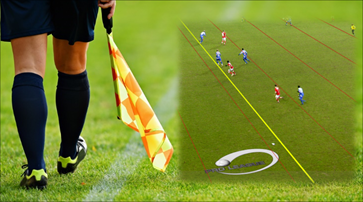 Sports Graphics
As usual, we will showcase our complete virtual and on-air graphics dedicated to sports. Using AI automation, make sure to stop by our booth to discover or check the upgrades of our line of products dedicated to live and post-game analysis.