Friday, October 19, 2018 - RTBF integrates complete suite of virtual graphics for the UEFA Europa League
DELTATCAST and RTBF strengthen historical partnership on the UEFA Europa League
DELTACAST and RTBF partnership has grown stronger, with Belgium national broadcaster recently choosing DELTACAST as their virtual graphics supplier for their production of the UEFA Europa League set in their brand new studio.
The project includes the complete suite of post analysis virtual graphics of DELTACAST.
RTBF has chosen DELTA-highlight with complimentary modules Virtual View, in order to create 3D views, the Bird View module for real cam fly effects, and DELTA-touch, to interactively drive the live studio show.
RTBF is very familiar with Delta-highlight as the broadcaster has been using the technology for seven years on its weekly football highlight show, La Tribune. This is the most popular football show in the French speaking part of the country for Belgian top division the Jupiler Pro League.
In addition, DELTACAST is a long-term RTBF partner for coverage of the UEFA European Championships and the FIFA World cup, with different customisations including an AR live stats interactive package that was provided during this summer's championship in Russia.
With Europa League rights freshly acquired by RTBF and the goal to move its production into a brand new studio, DELTA-highlight was the logical choice for RTBF, according to Charlotte DELWARTE head producer of the Europa. She said:
"We've been working very closely with DELTACAST on many different projects for years, so an extra DELTA-highlight system for the Europa League was the right and logical choice for us. We know DELTACAST and DELTA-highlight very well, they always consider our requirements, bring great support and are putting a lot of efforts into making the system continuously faster and easier to operate. The automatic calibration and tracking are particularly appreciated considering the time constraints of the live games, and of course the cost savings associated with this".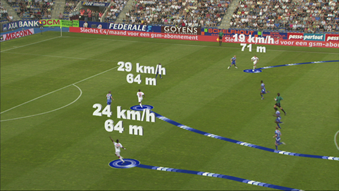 On the Europa League productions, DELTA-highlight is used immediately before the game, at half-time and right after, just like it was on the last FIFA World Cup in Russia. However, on 'La Tribune' operators have more time to prepare the augmented sequences because there is no live games component to the show.
Christian DUTILLEUX, CEO of DELTACAST commented; "RTBF is one of our historical partners in our home country and it's always very nice to strengthen this partnership. Thanks to RTBF, they constantly bring nice ideas to us, which translates to new upgrades of the product. We look forward to working together for years to come".