The DELTACAST standalone decoder NDI® to HDMI™ integrates its POE
Tuesday, March 02, 2021
DELTA-neo N2H benefits now from a new design. In 2020 the decoder acquired extra capabilities as the utilisation of NDI® 4.0 with next generation NDI®|HX technology, additional format supported and new options in the web interface.
In 2021 the first efforts target the integration of the PoE. As a result, you will take the advantage of more robustness and more reliability.
Now with only one Ethernet cable connected to your PoE switch you will get:
Video
Audio
Power
Connectivity
Last but not least, price remains unchanged.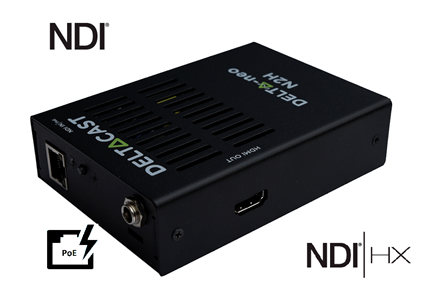 The DELTACAST distributors are ready to welcome you:
In EMEA 

https://www.3dstorm.com/en/livexpert/delta-neo-n2h
In North America 

https://jbanda.com/brands/deltacast/
Do you wish to discuss further on it?  Do not hesitate to contact us for more information.
Visit the product sheet here and the 360 product view here!