Success Story - Estonian Public Broadcasting ERR selects DELTA-touch to bring immersive football analysis and live sports graphics in the studio.
Thursday, October 07, 2021

ERR, the Estonian Public Broadcasting, has recently implemented DELTA-touch, an interactive presentation tool for journalists to engage with their audience and fans with high quality replays, sports graphics and football analysis in a TV studio environment. DELTA-touch was used for the first time in Estonia during the EURO 2020 competition. This high-end interactive tool brings real time augmented reality sports graphics technology up to the journalist through an easy-to-use touch-screen or multi-tablet interface.
We had the chance to talk with Alvar Tiisler, Sports Broadcaster at the Estonian Public Broadcasting ERR to explain us this premiere.
Could you detail us what led the Estonian Public Broadcasting sports department to select DELTA-touch?
We needed to acquire a live sports graphics solution for our TV studio during the EURO 2020, for big 'tournaments' and also for the Estonian League especially for the Estonian National team games. I contacted our trusted broadcast partner AVID and he referred me straight to DELTACAST. I explained to DELTACAST that we wanted to thoroughly modernize our studio level, create a more dynamic studio environment and also receive more feedback about it.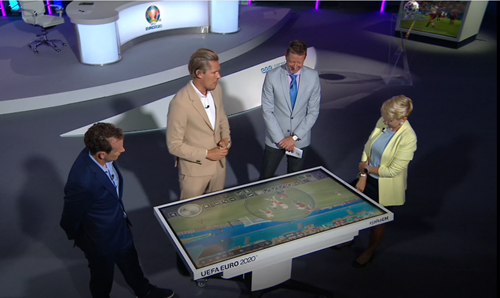 When we talk about sports graphics, football analysis or augmented reality for sports some people fear a certain 'complexity' of the tool to be handled by the team. What were the challenges for the existing ERR team?
We knew that we needed a simple – yet, powerful - solution as soon as possible for the start of the EURO 2020. We didn't have any previous experience with broadcasting graphics for football analysis at all. We are talking about a tool to be manipulated live in our own studio environment. So it had to be quite 'intuitive'.
"We didn't have any previous experience with studio graphics at all. We needed a simple – yet, powerful - solution as soon as possible for the start of the EURO 2020.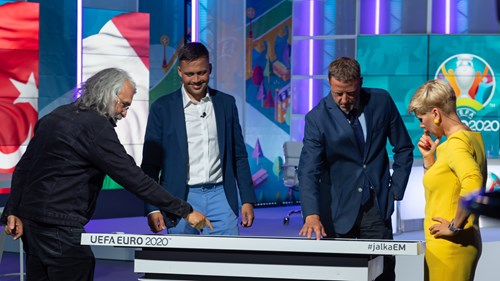 A good indicator to measure the easiness of the tool is to survey the 'non-specialists'. This tool was intended to be mostly used by 'external people' (analysts, ex-football players,..) and not the studio production team.
During the testing, one month before the EURO 2020, we realized that it was really easy for us to implement the DELTA-touch interactive tool in our studio environment. It took only a few hours to put everything in order. Then we acquired the tool for the EURO 2020 and it was very easy to operate, to implement, to install and use it.
And how was the tool perceived by your audience?
The success of the channel was evident and the media did not fail to highlight this latest innovation which is truly a 'premiere' in Estonia.
People had never seen this before in Estonia. No private TV station in Estonia had ever invested in such a tool and for any kind of sports before. The outcome of the DELTA-touch solution was recognized from the audience. We had about 75% of people in Estonia watching the EURO! We got a lot of feedback about this new tool, it was very fantastic. Our DELTA-touch got really famous in Estonia.
"We got a lot of feedback about this new tool, it was very fantastic. It got really famous in Estonia with the EURO 2020. The touch screen gave a very dynamic impact to our studio.
This first experience seems to have fulfilled all its objectives for the ERR channel. And even more...
We were very satisfied with the DELTA-touch toolkit. Everything ran very smoothly. We were also delighted with the service offered by DELTACAST and particularly the efficiency of its support service which can operate on very short notice.